Exhaust Fan Repairs
For Emergency Fan Repair Call Now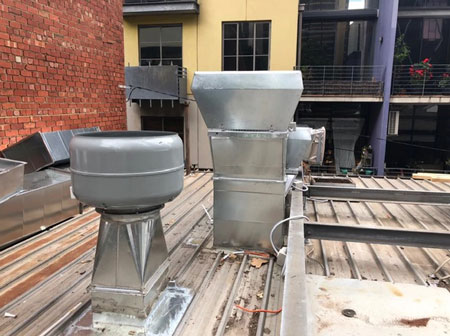 Exhaust Fan Repairs Services
We specialize in Exhaust Fan repairs and replacement for Restaurants, Café and food courts in Melbourne and Victoria Wide.
Replace with AUSTRALIA MADE exhaust fan the highest quality.
24/7 Exhaust fan repairs services
Same-day kitchen Exhaust fan repairs and replacement or the next day services.
12 Years' Experience in Canopy Kitchen Fan Repair and Replacement.
Exhaust fan Repairs Melbourne and Victoria wide
We always have in stock 15", 18", 21" Exhaust fans to replace during emergency Kitchen fans break down.
Common Commercial Exhaust Fan Questions and answers:
Q. Why is my exhaust fan stop working?
A. Your exhaust fan motor is burned out due to long term usage.
Most kitchen exhaust fans last for 6-8 years before new fan replacement required.
Q. Why is my Canopy Exhaust fan making a grinding noise and getting Weaker?
A. The exhaust fan motor is worn out, it's a sign that the fan will break down any time soon.
Broken Down Kitchen Exhaust Fan?
Give us a call! Onsite to inspect and replace your exhaust fan on the same day or the next!